do not be anxious about anything, but in every situation,
by prayer and petition,
with thanksgiving,
make your requests known to God.
philippians 4:6
this big old world has spun through fifteen days and i hold her close with one hand.
monday found me in tears at 4 in the morning as the last piece that connected us fell off sometime during the dark of the night...
and this small one, this baby girl who squeaks throughout the moments i should be sleeping,
she holds me captivated.
i was so scared of all the changes she would bring, what it meant for each one of us, the late nights. i know the darkness of depression that seemed to settle after each little one entered our family and the more i tried to prepare myself, the more afraid i became...
a
balm
can be described as a
soothing
,
healing or comforting agent
. and this is what she has been. i whisper her name over her soft, downy head and i call her for what she is, our balm from God.
there have been moments that have dipped low, tears come easily, messes can overwhelm, 2 am can echo loud, but i am learning, finally, after the fourth newborn has been placed in my arms that moving slow isn't the worst that can happen.
she fusses with a tummy sore and i can feel my heart rate speed up, the older three press in close as she fights against my arms and i want to flail my hands in any direction that can lead us all to peace, that can make it all right again, but the agitation in all of us becomes worse...
until i breathe deep and close my eyes so that my heart can find Jesus and when i slow, they settle and the pressing in no longer pushes me away; instead, it finds me grounded.
she finds my heartbeat to fall asleep - presses her dark head against my chest. her skin is no longer wrapped up within my own, our bodies no longer connected with that pulsating cord...but she settles when i whisper her name. she recognizes me.
and in the moments i slow, i try and whisper thanksgivings - a lifeline that keeps me attached to Jesus...
what if in stead of discounting the current moment, the uncontrollable, the simply given - what if i counted it - and on the God who controls it all?
what if all our running around is only our trying to run away from God - the great I AM, present in the present moment?
what if i woke to now and refused to hurry because i didn't want to refuse God?
what if i didn't discount this moment but counted it for what it is - God here?
it is only the present moment alone that holds the possibility of coming into the presence of God. look around, breathe deep, enter into this one moment.
now could be an altar. this time could be a tabernacle.
in God, there is no time, only eternity - or more simply, only now. His name is I AM. here - wherever my feet are - is where i can love Him.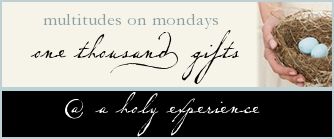 3 gifts heard
1788. olivia's bless you me when she sneezes
1789. lyla's need for reassurance
1790. elias' belly laugh
a gift outside, inside, on a plate
1791. my newborn baby girl - straight from the womb
1792. the prayer my midwife said
1793. a long awaited lunch!
3 graces you overheard
1794. my older three meeting my younger one
1795. the way he tells me he loves me
1796. listening to her breathe in the dark stillness of night
a gift old, new, blue
1797. to be a mama again
1798. zeruiah
1799. a new journal and nest placed in my hands
something you're reading, making, seeing
1801. our family of six! SIX!
1802. his mama and sister and our nephews - a full, full home.
one thing in your bag, your fridge, your heart
1803. the Bible he gave me
1804. the meal graciously given
1805. the peace only He can give
3 graces from people you love
1806. miles traveled
1807. a sister, a niece, a nephew
1808. knowing and loving for 17 years
dusky light, surprising reflection, lovely shadow
1809. my youngest nestled close in the early morning
1810. my body, no longer filled
1811. days slowly getting longer
a gift held, passed by, sat with
1812. her head, just over my heart
1813. a heap of cousins playing
1814. elias, curled up on my lap
a gift sour, sweet, just right
1815. tiny upset tummies
1816. the way he unconditionally love sme
1817. a house full and bursting
3 yellow gifts of fresh mercy
1818. unexpected flashes of sun
1819. the many diapers of a newborn
1820. patch of sun on elias' face
something above, below, beside
1821. that blue, blue sky above us
1822. zeruiah's silky hair beneath my chin
1823. a visit with tabitha
3 things about yourself you are grateful for
1824. my body that cradles and nourishes
1825. that i was made just for tony
1826. my arms that can hold all four of my babies close