i get it.
i really do.
and that one moment of failure?
it can have you locked still with your eyes on what's burning down behind you.
i sometimes wonder if that's why
she was told to not look back
-
that maybe it was because she'd never be able to look forward again.
and eyes that could see vibrant colours, a mouth that could laugh joyful, ears that heard the sweet voices of her children...
all crumbled to a salty dust.
and what all lay before her was no more,
what was behind her was drifting away in ash,
and the woman only known as
lot's wife?
she stood frozen in the space between.
failure has this way of bringing out the worst in us - we either turn a blind eye and inwardly rot, or we remain glued to
what was
and become the hardened living and either way,
either way,
we crumble.
i get it.
moving forward, placing that one dragging foot in front of the other seems wrong.
that moving forward doesn't seem right, because you chose the foolish way and living out your faith seems a mockery because a christian should be better than you have been...
i've heard it,
i've cupped that poison in my own frozen hands and felt my hope and my failures drain me all away.
and there is a death that happens on the
road from sodom to zoar
, a death that happens in that broken place between what was and where you are heading to.
and that could be the end.
it could be.
except for Jesus.
please wait, because
yes
, it does seem too simple,
and
yes,
you did mess up
and
yes,
you could have made a different choice...
but just stop for a minute,
you're already standing there frozen anyways...
Jesus.
let Him near?
let Him breathe over you, stirring your heart and that hope you let go of and fill your lungs up again.
breathe deeply,
because you are not defined by what you have done - you are defined by
Whose
you are and you,
woman-who-thinks-she's failed,
you are
His.
and when you are His, with failures and brokenness and sin splattered all over you,
He only sees Jesus.
He sees the Holy One Who boldly took your place.
so take that step - that frozen, halting step.
move your foot forward and then move the other one too,
let the wind blow the dust of death off of you, because you are not some shell of a woman lifeless and without use...
you are His and He will use even the salt that caked your face dry to
cause a thirst
in some other parched heart
and you will find that what left you frozen will lead you to
His water that never runs low
.
you are not a failure.
you don't have to be stuck between what has been and the elusive what-could-be...
His heart is there, thrumming deep inside you -
it's time to start moving forward again.
come and hear, all you who fear God,
and i will tell what He has done for my soul.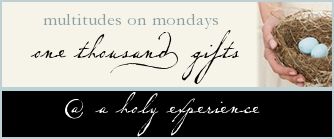 3 gifts found in Christ
2118. sitting in the hot sun with a sister-in-Jesus, sharing our hearts over His Word
2119. relationships deepened
2120. when we have been with Him, others can see (acts 4:13)
3 gifts close
2121. his kisses in the warm sun
2122. teaching the girls to read all pressed in close
2123. the younger 3 tackling me in bed
3 gifts reflecting
2124. sleepy mornings in front of the fridge
2125. moonlight on grass
2126. remembering lyla small
3 gifts fragile
2127. gramma's ring
2128. lyla's heart
2129. the smallness of zeruiah
a gift cloth, steel, wood
2130. those dish cloths
2131. his commitment to us
2132. cherry trees all in a line
3 gifts moving
2133. that crazy strong wind
2134. her hand on my cheek
2135. days that speed by
3 gifts "ugly beautiful"
2136. a back that seizes - move slow
2137. a "from scratch yard" - endless possibilities
2138. sibling conflict - learning to work out the hard things
3 gifts orange
2139. deeauna
2140. robin
2141. those shoes on my feet. :)
3 gifts in dirt
2142. candy tuft. lots. of. candy. tuft.
2143. that one purple tulip
2144. new grass coming up
a gift given, made, sacrificed
2145. tony's promise
2146. our babies
2147. saying not to what i really wanted
3 gifts tasted
2148. the second cup of coffee - with a friend
2149. blueberry yogurt
2150. home-canned peaches
3 gifts flat
2151. fedex parcels arriving right on time
2152. made up songs by sisters in the back seat
2153. the folded laundry pile
3 gifts found in difficult people
2154. a strengthening in my spirit
2155. tony and i drawing closer
2156. to realize it's not a competition
3 gifts before 9am
2157. sunrise sightings
2158. early morning coffee
2159. the start of a journey
a gift in a sign, a smile, a snack
2160. that hidden inn on the mountain
2161. that they had intense children too
2162. strawberry icecream-on-a-stick
3 gifts found in Christ
2163. that i am found in Him
2164. i may know Him and the power of His resurrection
2165. my righteousness comes from faith in Jesus Christ
3 gifts about your home
2166. the light
2167. the improved kitchen
2168. that we are all together under this roof
3 gifts inside a closet
2169. a mess of hand-me-downs
2170. organized jackets
2171. all those canned peaches
3 gifts found in the dark
2172. soul-changing prayer
2173. cricket song
2174. cool breezes
a gift outside, inside, upside down
2175. a mowed lawn
2176. my kitchen ceiling
2177. that we are here
3 gifts about your parents
2178. married 40 years
2179. all those years of piano lessons despite my complaining
2180. raised me to love a wide-open alberta sky
3 gifts held in hand today
2181. 7 week old barney
2182. all of their hands at some point
2183. that rose - thorns and all
3 gifts found in your mother
2184. passed on her love of reading
2185. taught me how to iron a man's shirt
the right way
2186. that her birthday was yesterday...