she pulled out of the driveway before me, red tail lights shining brightly in the softly falling snow.
she led me to a starbucks - she knows me well...
and then through the winding streets of a town i wasn't familiar with.
it was dark.
it was cold.
but following her, i felt safe.
she had told me, before we left, what point she would pull over and go back home...the point where i would carry on my own.
i had a map.
i had her phone numbers.
but i wouldn't have her.
we climbed the hill together in separate cars when i noticed her right light start blinking and her car began to slow down.
as i passed and honked my goodbye, i looked over to see her arm in the cold, waving me on...
and i found myself alone, in a blizzard with three sleeping children behind me.
but thankful...so very thankful that she had come with me this far.
in the quiet of the dark and swirling snow and the long drive home, He brought to mind each face, each heart that i have grown to love.
the last weeks before we leave find me climbing a steep road of many emotions, some harder to navigate then others and i find myself pressing closer to the ones who will soon turn around and head home as i continue on into an unknowable future...
ah, but He does - it's not unknowable to Him.
He knows.
and i am so very thankful for the comfort that He has shown through the lives of my friends...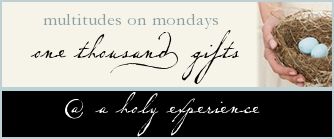 101* for the broken cord on my laptop...for the inability to download my pictures. means a picture-filled-post when everything gets replaced!
102* for the kindness of friends - warm comfort of a dinner delievered and a gift unexpectedly given.
103* an afternoon away with the dearest of families.
104* my children, each one and how a shortened hairstyle suits olivia perfectly.
105* for the invite to dinner, children entertained and lives shared.
106* the small inbox invite and the rush over to spend a quiet evening with the best of friends.
107* the end of a selfish, grumpy day and the promise of a new morning.
108* for feeling like He doesn't and then He reminds me through a simple song and a specific verse on a
favorite blog
that He does...
He. knows. (and do you notice the blue bird? the smallest of details to remind me...)
(just a couple of things - the song begins around 0:50. feel free to pause the music to your right...)