they love deeply, each of my children. fast and true, they love with a loyalty that comes straight from their father.
when you are loved, you become a part of our family. and you are talked about for hours, days, weeks, months...
my family is rather large, because of my three, and only a few i'm related to.
as the day grew darker and we tried to move each one towards the van, olivia was having the hardest time leaving. falling into a patch of plants, she quickly found more to cry about as she lifted her small hand to show me the prickles.
it was a long, loud ride home.
as she struggled her way into her pretty, pink, princess pajamas she asked if i would remove the last prickle from her hand.
she asked if i would get the tweezers.
under the light, she unfurled her clenched fist and raised the tender flesh under my nose in complete trust.
only, this prickle was stubborn.
mere tweezers were no match.
and so, i went to the laundry room and opened my sewing kit.
her eyes grew big as she saw the tiny needle in my hand and for a few moments struggled against the inevitable pain that she knew was coming.
until she relaxed and said with grave resignation in her voice,
it's okay, mama. you can use the needle. you can hurt me.
you can hurt me
.
how rare it is that i say to my Heavenly Father,
it's okay, Abba. You can use this incredible painful situation. You can hurt me.
?
she leaned in close...our temples touching as i worked at removing the prickle with the least amount of pain. she flinched twice where the metal touched the area most tender.
and when it was all over, she lifted her big, hazel eyes to mine and shouted triumphantly,
thank you, mama!! thank you for hurting me! it doesn't hurt anymore!!!
there are still places that hurt...places where the pain is still present. but it isn't as fresh, isn't as raw. in the moments least expected, He has placed a balm over my heart...has brought old friends close and brought new ones into my life.
He expands my family, enlarges my heart, and i whisper through the tears,
thank you, Jesus. thank you for the pain. thank for you the moments when it doesn't hurt as deeply...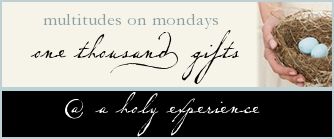 glimpses of *587-*654
* a weekend visit with the sweetest of sisters
* lyla's bravery at the park
*cheesy pizza
* new churches
* worship
* a much needed message
* a happy, fulfilled husband
:::::
* my kitchen window
* happy hum from a dishwasher
* dust dancing in a sunbeam
* little ones climbing on chairs to catch them
:::::
* knowing a dearest friend is coming!!!
*counting down the mintues
* standing barefoot in the driveway and seeing her van
* hearing her squeal through closed windows
* that first hug in 3 years
* happy tears
* meeting faces only seen in pictures
*realizing not much has changed
*
driving in the dark
* getting horribly lost - twice
* cadbury chocolate
* new friends
:::::
* early morning drives
*
full
house
* loud, wonderful chaos
* starbucks run
* taking up 3 tables with all our little ones
* lyla and logan still friends
* holding hands through parking lots
* axel's hat
* sage's blue, blue eyes
* falling asleep on the couch
:::::
* husbands willing to watch all 8 so wives can have a break
* twisted sisters
* sweet puppies
* chalkboards
* needle felting
* finding my favorite canadian chocolate in unexpected places.
* stocking up
* late night talks
* sleepy children
:::::
* bleary-eyed coffee drinking
* target wandering ~
just like old times
*
old navy browsing
* *more* coffee drinking
* sarah k. drew
* giggles
* 2 glasses of red
* sharing a couch
* LAUGHING
* friendship
* over-baking cakes
* mushing up cakes
*making cake-balls
* cake-pop instructions
* being so tired i can't see straight
:::::
*summer-visit planning
* all 6 ~
friends
*
good-bye hugs
* being loved
* realizing that He provides what we need.
* quiet evenings with
him
*
a happy heart full from such a happy weekend.