the list has begun to slow down...
it seems as life sped up in the last couple of weeks, my pen stayed hidden beside my journal of thanks.
and then, as life slowed down again, as i floundered in trying to gain some sort of routine, the small red book got lost in the shuffle.
as i looked at my habit of complaining and chose *that* to give up for lent, the
one thing
that would help keep me on track got shoved down into the bottom of my purse.
as i've become lonely and begun to miss face to face fellowship with friends, as i've looked at families who take care of one another and felt the ache deep,
deep
down in my spirit...
oh, that pen has been weighted down by a million hurts and i bought into the lie that unless i
feel
thankful, i have no business opening my mouth.
my eyes have been on what i
don't have
, what i
wish i had
instead of on the
One Who is here
in these hard and painful moments.
He hasn't abandoned me.
and i write that sentence for my eyes ~ not as some pious, faith-filled saint who has it all together.
i don't.
my falling apart today gives testimony to that fact.
my offering of thanks is small this week...not because my God is small, but because my faith has been.
but i offer it up to Him anyways, choosing to enter His gates with thanksgiving, and His courts with praise...trusting that He alone can lift up my head that hangs so heavy.
that His plan is good; that He loves deeply, strongly.
that He sees the greater plan...
and it's in recognizing the curving and twisting of the small moments that i'll be led out of the valley to His Heart...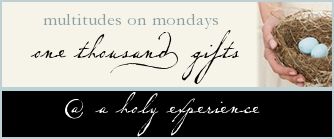 *566- *586
* folding laundry
* the many neat stacks
* saying "i'm sorry"
* forgiveness and chasing hugs
* this home
* towels filling the linen closest
* serenaded by wooden spoons beating on pots
* resetting routines
*
his
phone calls
* open windows
* fresh breezes
* fresh coffee
* waking up to the sound of rain
* the repitition of dishes, of laundry
* swirl of cream in coffee
* the "surrender cry" of nap time.
* clean bathrooms
* swept floors
* his insistence that he must. wear. socks. at. all. times.
* banana nut bread cradled in parchment paper
* most favorite cookbook
* the memories of the friend who gave it