He calls us to be thankful,
in
every
situation.
looking back on this week, this month, this previous year, it would be so easy to sink into a shroud of anger, to take a sip of bitterness and lean back and revel in a combination that could twist my soul into an ugly mess.
oh, there are moments light and airy that fairly shine with reasons to say "thank You". the moments that make me feel good and at peace with myself and those around me...the moments that can cover up the ugly for a while before reality begins to sink in again.
yes, He calls me to be thankful in the easy moments...
but He also calls me to be thankful in the ugly:
when families fall apart.
when stability is revealed for the illusion that it really is.
when the unthinkable happens and who you thought you knew, isn't.
when hope seems lost.
when home is gone and you wait and wait and wait in the middle ground, wondering where your roots will grow next.
when children throw tantrums,
when mamas do too.
rejoice in the Lord always. i will say it again: rejoice!
(philippians 4:4)
and so i do - pen to paper, fingers to keyboard. whispering it out loud when i want to keep silent, choosing to see Him in it all. because He
is
in it all.
i just need to open my eyes to see...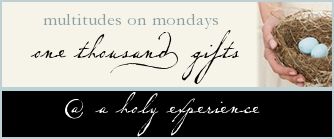 glimpses through #124-#192
* spring-like sunshine
*
his
profile...that nose i have loved for 10 years.
* bright red teething cheeks
:::
*old-man directions
* the never-ending search for that specific small town starbucks.
* for
finally
finding it!
*
his
love for his children
* icing covered fingers and baby wipes that clean oh-so-well.
* my band of sisters made up of cousins, friends, husband's sisters - love so undeserved.
:::
* old couple pressed close together, smiling, driving ~ in love.
* the realization that home is where
he is,
where
they are -
not the floor i place my feet on.
:::
* the constant
plffft
that sprays from his still-baby lips
* the way
he
makes me laugh - a throw my head back, open mouth laugh
:::
* mushed peanut butter on my shoulder, jam spread on my sleeve
* cup hats and baby boy giggles
:::
* the way
he
stands, leaning against the kitchen counter ~ the way
he
laughs and listens
* for
his
slippers
* for
him
*
his
shoulders, so broad and safe
:::
* the sound of a truck going by - reminding me of strong, prairie winds
*
his
voice, deep and lyrical
* wedding pictures of a friend
* yellow ribbon tied to a rope swing, both blowing in the breeze ~ giving voice to hopes and prayers for
bowe
:::
* that he looks at this body, filled and emptied 4 times and still loves it
* that yellow house with red shutters and raised garden beds
* common ground found with the check-out girl
:::
* she's 5!
* auburn waves
* pink flowers on jeans
* beautiful wrapping paper
* the weight of scissors in my hand
:::
* soft carpet
* sunday naps on the floor
* a hug - firm and warm
* the way a missed friend loves my children
* church, in a town not my own but feeling so loved, so missed, so accepted
* church coffee - how i missed it!
:::
* purple pants on 3 year old legs
* her fascination with her shadow
* home-made catapults
* skipping
* drawer emptying
* fresh spinach
* perfectly seasoned artichoke hearts
to read His message in moments, i'll need to read His passion on the page; wear the lens of the Word, to read His writing in the world. only the Word is the answer to rightly reading the world, because The Word has nail-scarred hands that cup our face close, wipe away the tears running down, has eyes to look deep into our brimming ache, and whisper, "I know. I know." the passion on the page is a Person, and the lens I wear of the Word is not abstract idea but the eyes of the God-Man who came and knows the pain.