there will be moments throughout the day that i have to go looking for him. my smallest one will be nowhere near me.
i begin to search him out.
and like a moth to a flame i find him...
sitting behind a closed door on the bottom step of the stairs wrapped up in his blanket that used to be mine.
and he is quiet, all snuggled into the nook he has made for himself.
quiet and content, he lifts his big brown eyes to meet mine, eyes so much like his daddy's, and he smiles that smile that draws me in and brings me to my knees in front of him.
joy.
joy is like that.
in the quiet dark of uncertainty, it must be sought out.
and like a moth to a flame, it draws me in and causes me to raise my eyes to the One Who loves me, Who
died for me
, Who saved me from my sin and despair, and i gently bend my knees before Him, thanking Him for it all...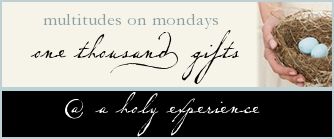 glimpses of #'s 193-295...
*
still learning from dad through the notes he wrote down in his bible - precious, precious words.
*hiccups
*little feet dangling off chairs
*baby boy snuggles
*olivia
*that she is 3
*the white in
his
beard and at
his
temples
*elias, curled up in a chair around a book
*her wonder at being 5 -
still
5, for one more year!
*wood smoke on shirt, in hair
*pink fuzzy slippers
:::::
*light wrapped tree trunks
*re-purposed church window
*birdhouses
*wind chimes
*the 3 behind me
*the one beside me
*prayer for and with him
*target
*wide, wide open blue skies
*white globes hanging from my earlobes
*the way they brush my neck
*the way my children love immediately.
:::::
*new crayons scattered on black
*learning how to stoke the wood-fire
*his patient encouragement
*filling the wood box - one log at a time
*leather gloves on my hands
*the sound of the fire - the crackle, the sizzle and the popping
*hot jasmine-steeped tea
*old, old bone china
*the sound of their footsteps above me
*the way they seek me out to say "i love you, mama"
*freshly folded laundry
*wet dishes drying on the rack
*spilled milk
*a smile given...and received
:::::
*the most perfect parcel
*clothes, shoes, slippers strewn across the floor
*a hot "bowl of sol"
*that he thinks of me
*this life
*truth
*warmth
*lyla ~ drawing
*olivia ~ reposing
*elias ~ all boy with daddy
*lilies
*an unexpected gift
*the voice of a far-away friend
*his hands on me
*the way His Word calms
:::::
*the way elias says "meow" and "kitty"
*light-switch chains
*teaching lyla songs on the piano
*when all 3 chase each other
*the way he head-dives onto my lap
*olivia's arm around my shoulder
*the way lyla wants to be included in this list
*fluffy clouds
*hearing the girls sing
*tickling olivia awake
*the american flag
*missing my canadian one