i still remember
the naming of her all those years ago.
she was named with intention.
she was named with preconceived notions of what her names would mean for her.
i had no idea how my life was about to change with the arrival of this daughter.
i had
no idea
how much i didn't understand.
grace is like that.
for many years, i lived as a believer in God, but i did not live
from God. i was a child of the God of grace, but i was looking for
i am a
good girl
and grace terrifies me. i don't understand it. I don't know how to live with it or extend it or even, to be honest, how to receive it.
i am a
good girl
whose mistakes and rebellions have put a smudge, or twenty, all over the word
good.
but i am a christian,
shouldn't all christian girls be...good?
the word grace - it gets thrown around like i should know what it means, but i don't.
i don't.
almost 30 years since my first prayer and all i know is that this one word leaves me uncomfortable, raw and ready to run.
and yet this one word, this one that sounds like silk, that whispers rest and peace and all good things i am not - it is everywhere. it won't let me go. or maybe, more accurately, He won't let me go. and His Hand, it finds me in that book that i keep signing out at the library. the one that claims it's for
the good girls
and i can't get past the first page because i know i am not. but the numerous check-outs from that library counter is becoming ridiculous and so i finally just sit down and read.
and i can't stop.
because His grace isn't for
the good ones.
they don't exist.
His grace is for all and He offers it, scarred Hands outstretched to the broken and sin-weary and to every good girl who hides her mess with a mask.
it's for all of us.
it's an intimate journey, this pursuing of grace - because it weaves it's way into the most public of areas and the places deep and still. but it's a pursuing of hope, because God's grace is so very rich, so very life changing and dripping with mercy and for the last month or so, i've sensed His invitation to come and discover what His grace really means.
i don't know if there is anyone who will join me, if there is anyone who needs to discover and know for themselves too, but this is what i'll be doing over the next few weeks here, with His Word and
this book
and stepping out from fear and into His scandalous love.
i won't be publishing these posts on facebook and i may or may not turn off comments...because this is a quiet discovery, and i feel that this space needs that stillness too.
but every journey no matter how big or how small has the great capacity to take you places where you have never been and more often than not, a journey is so much more enjoyable when you don't travel alone. so maybe you need to place your feet in the footsteps of Jesus to discover how deep His grace towards you is - and maybe you wouldn't mind if i tagged along too.
but that first step? it is one that stands on the truth of thankfulness...
and whatever you do, whether in word or deed, do everything in the
Name of the Lord Jesus, giving thanks to God the Father
through Him.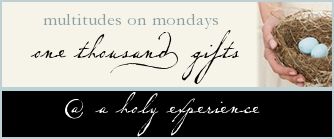 a gift in bag, in a box, in a book
2100. coffee
2101. all those blocks, made by his uncle
2102. grace.
grace
3 hard eucharisteos
2103. nothing is wasted
2104. brokenness
2105. really seeing
3 gifts woven together
2106. confession and repentence
2107. joy and sorrow
2108. His beauty and our ashes
3 gifts inherited
2109. gramma's teacups
2110. her engagement ring on my finger
2111. his hair, just like his daddy's
3 gifts square
2112. homemade invites
2113. patch of moonlight
2114. broken prayers on paper
a gift stacked, stashed, stilled
2115. those dishes
2116. that irish pasta
2117. the 3 older ones piled on top of me just before bed