He is unchanging
and yet He brings us through seasons that will bring about change in us.
i stood outside on our front step this evening and realized that with startling clarity even though it's been something He has been whispering in my heart for the last few weeks or so.
that word He gave at the beginning of this year to name the year and to give me a focus?
He hasn't forgotten and He won't let me forget either...
He wants to flow life through what has seem parched and dry.
but i don't know if i'm brave enough.
change with all its mysteries and uncertainties is certainly something i've never embraced, but could this be a step towards something new? instead of clinging to the familiar and the old, can i trust Him to provide when it feels as though i'm grasping at air?
this post seems as vague and as hazy as the other side of that door standing wide open and it seems that the only way through is to drop a lot of dreams. a lot of hopes. a lot of what i had expected.
but maybe dropping it all is letting go of what has been holding it all back...
i feel like i always do, that last moment before that last push that brings that first moment of holding my baby in my arms:
i feel terrified.
but pushing through fear, through loss always seems to bring about new life.
it's always miraculous...
and there are other words of a river that flows that wind their way through all of my questions and fears and they are a promise. His Promise. and He always remains true to His Word...
when you pass through the waters
I will be with you; and through the rivers,
they shall not overwhelm you; when you walk through the fire
you shall not be burned and the flame shall not consume you
isaiah 43:2
so i can give thanks. because He is good.

no matter the outcome.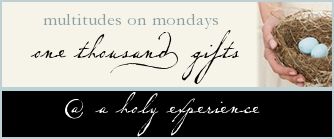 1560. for tony
1561. his birthday
1562. holding his hand
1563. 12 years with him
1564. sock puppets
1565. gane
1566. hugs that soothe tears
1567. dog hair...everywhere
1568. rainy days
1569. a fire in the wood stove...
1570. ...the first of the season!
1571. snuggling with kids and books
1572. new friends
1573. books borrowed
1574. encouraged hearts
1575. being taken care of
1576. yard work
1577. taking care of clutter
1578. mixing up cookie dough
1579. blanket and couch and movie with him
1580. rain on the skylight
1581. elias pressed close
1582. friends who help
1583. moments alone - with tony
1584. 2 princesses and a motorcycle rider
1585. foggy mornings
1586. upturned, smiling faces
1587. tony standing near when i am so tired...